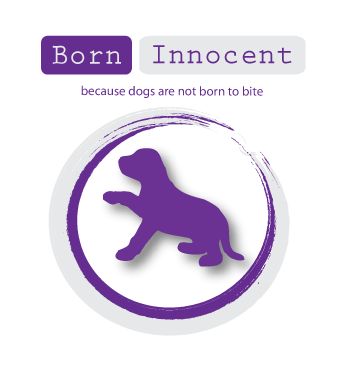 Write to us: Born iNNOCENT, 20-22 Wenlock Road, London, N1 7GU
CHAIR - FRANNIE SANTOS-MAWDSLEY
"The Dangerous Dogs Act and, most notably, Breed Specific Legislation have been failing dogs, their owners and British Society for 25 years. I feel the time is right for an organisation like Born Innocent to tackle public and government attitudes to certain types of dogs and I have been campaigning on this issue for sometime now. My passion and love for dogs is what drives me to seek better legislation."
"I have been campaigning against BSL for many years. I started with support groups for owners, when I realised that the dogs being seized were not vicious attack dogs, but instead gentle family pets. The more I looked into this law the more I became aware of the unfairness of it, this made me determined to make the public aware of the reality of BSL and campaign for breed neutral laws in the UK."
"I first heard about BSL from being involved with helping to place pound dogs into rescue, I couldn't believe how unfair it was and realised then that things needed to change. Over the years more and more dogs were being seized for being "type" when they had done nothing wrong and were being judged on how they look. I feel so passionate about the injustice of it and really want to help change the laws. It affects so many people including the families as well as the poor dogs. we need to say goodbye to BSL and I want to be part of making that happen."
"I found out about breed specific legislation (BSL) a few years ago when I started finding rescue placements for stray dogs that found themselves on death row in the UK. The unfairness of BSL was brought home to me when I lost my first stray when he was typed. He was described as 'one of the friendliest dogs the pound had ever had in'. I am very passionate about dogs and I decided I needed to use this passion to drive change, raise public awareness, and campaign for breed neutral laws in the UK.
"

I had always heard about Breed Specific Legislation but never really knew what it meant. It was only after learning about the horrors of what it means that I thought, 'something positive must be done'. Dogs put to sleep simply for looking a certain way (having done nothing wrong) and owners being criminalised for owning a dog because of the way it looks. I would like to see fair laws and laws that keep everyone safe; dogs, owners and the public. BSL does not do this. In the past, I have advised several animal welfare charities on cross-cultural issues."
John Cooper QC has been campaigning for animal welfare for over quarter of a century and helped draft the Hunting Act 2004. In the past he has prosecuted animal welfare cases for IFAW and carried out a Judicial Review on behalf of Brian May's Save Me organisation. He regularly broadcasts and writes on the law across various media platforms, including

The Times

and

LBC

Radio. He is often referred to as one of the UKs leading lawyers.
​
"As someone who has been involved

in campaigning for the welfare of animals for over a quarter of a century, I am
thrilled to be part of this new and much

needed initiative, dedicated not only to

protecting dogs but

also
professionally and effectively educating and lobbying

for the repeal of this heinous

legislation."